The Duplicate Hunter is designed to help you efficiently identify and manage duplicate keywords in your campaigns. This help document provides step-by-step instructions on how to export your duplicate terms. You have the option to download the exported data in CSV (Comma-Separated Values) or JSON (JavaScript Object Notation) format, making it convenient for your analysis and record-keeping needs.
Follow these steps to export duplicate information from the Duplicate Hunter tool:
Access the Duplicate Hunter:

Log in to your account.
Navigate to the Duplicate Hunter section.

Identify Duplicate Records:

Use "Find Duplicate Search Terms" to perform a search or analysis to identify duplicate records based on your chosen criteria (e.g., ASOC, CPC).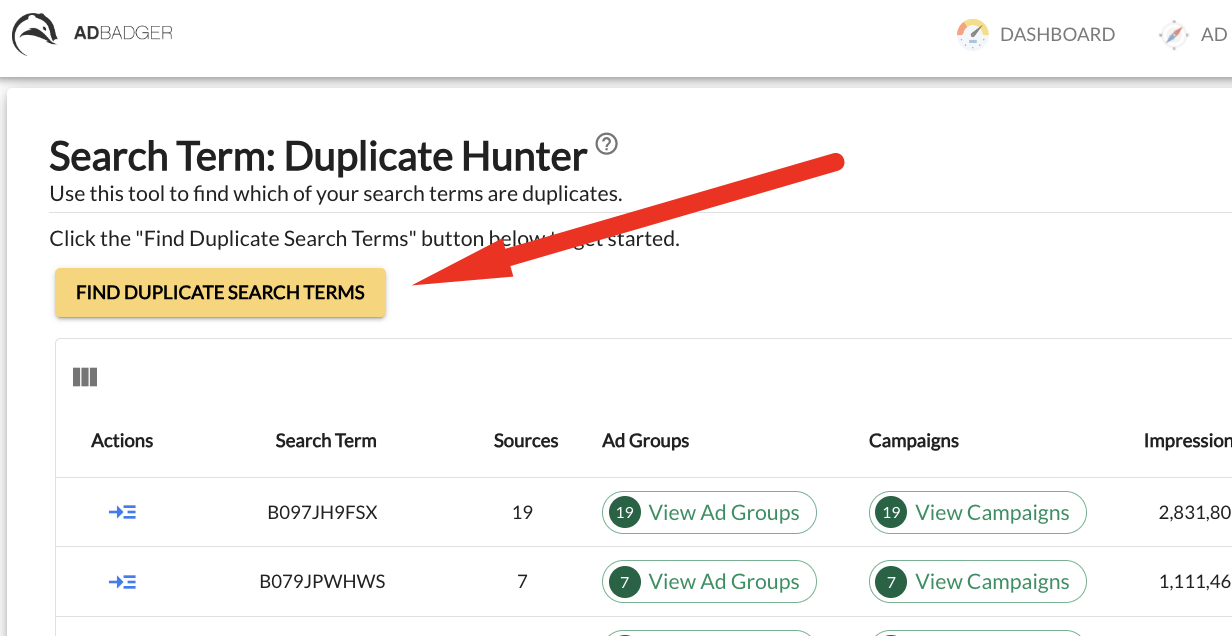 Review the duplicate records presented in the tool's interface to ensure accuracy.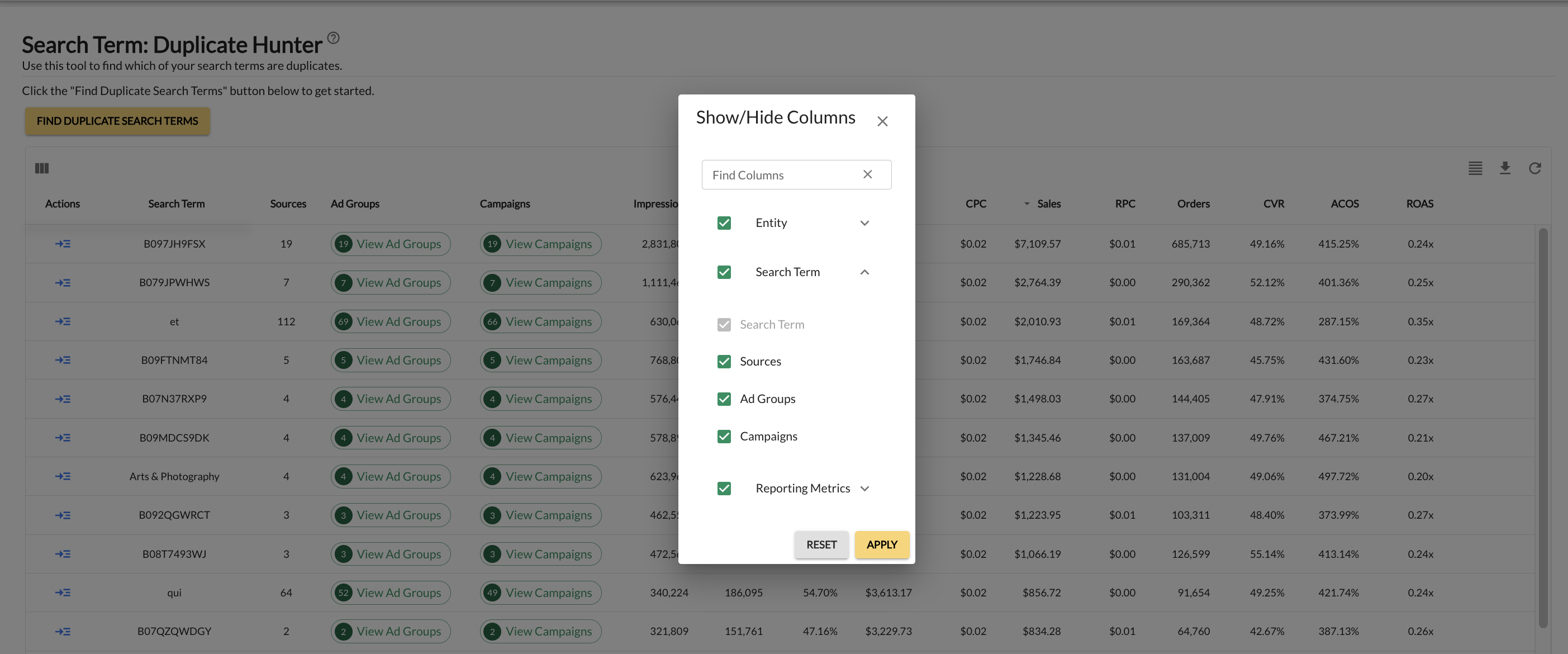 Select Export Options:
After identifying duplicate search terms, look for the "Export".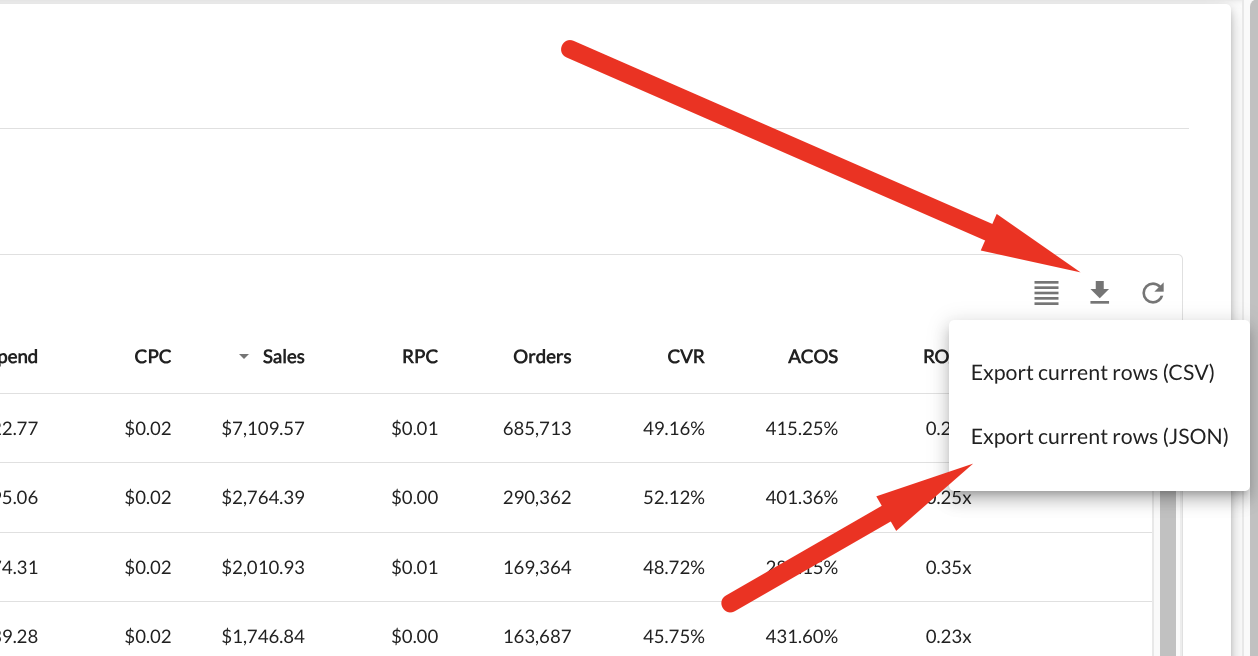 Choose Export Format:
1. Click on the "Export" or "Download" button to open the export options menu.
2. Initiate Export:
Once you've configured your export settings, click the "Export" or "Download" button to initiate the export process.
Save Exported File:

Your browser will prompt you to choose a location to save the exported file.
Select an appropriate directory on your computer and provide a meaningful name for the file.

Access Exported Data:

Navigate to the directory where you saved the exported file.
Open the file using a text editor (for JSON) or a spreadsheet program (for CSV) to access the duplicate information.
Exported Data Format
CSV (Comma-Separated Values)
When you choose to export duplicate information in CSV format, the data will be organized in rows and columns, with each column representing a specific data field. The values are separated by commas.
JSON (JavaScript Object Notation)
Exporting in JSON format provides a structured representation of the duplicate information. JSON uses a key-value pair structure, making it suitable for storing nested and hierarchical data.
For any further assistance or questions related to using the Duplicate Hunter tool or exporting duplicate information, please contact our support team at thebadger@adbadger.com.